Green Dataworks LLC is a software and data consultancy based in Tacoma, WA.
We specialize in helping government, non-profit, and SMB organizations do more with limited resources by enabling process automation with custom, cloud-based software services.
Our innovative software solutions help to bring into focus patterns that exist in your data by producing visualization and insight.
We are climate conscious: our offices run on on-site solar panels during the day and use other carbon-free renewable energy sources when the sun is not shining.  We also purchase carbon offsets of our cloud infrastructure to ensure carbon neutrality.
We are a Certified Minority Business Enterprise (MBE, Certification Number: M4M0027644) that is registered with the State of Washington.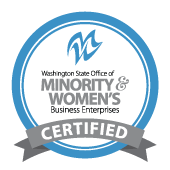 Green Dataworks LLC is a registered partner with DataBricks.
Databricks is a cloud-based big data processing and analytics platform that simplifies building, managing and deploying Apache Spark-based applications. It offers a collaborative workspace for data teams to work together, including data exploration, visualization, and integration with popular data storage platforms. It's used across various industries.